Jazz Guitar Patterns & Phrases Volume 1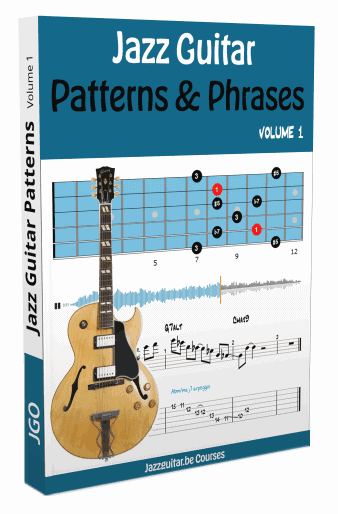 Online course + printable PDF eBook (319 pages) | Tabs, notation, audio & backing tracks | Instant access | Works on all devices, including desktops, laptops, tablets, mobile phones, Apple, Linux, and Android
Do you sometimes get the feeling that a lot of your guitar solos sound alike and that you keep playing the same things over and over? You've spent hours practicing scales and arpeggios, but your improvised solos still don't sound like jazz?
This course is the result of transcribing solos from jazz giants such as Wes Montgomery, Joe Pass, Kenny Burrell, Grant Green, Charlie Parker, and many more. While transcribing these solos, I noticed a lot of recurring patterns that are used over and over again and that form the base of the jazz guitar language.
In this course, you will learn these bite-sized and finger-friendly patterns, building blocks that are easy to memorize and reproduce in your solos.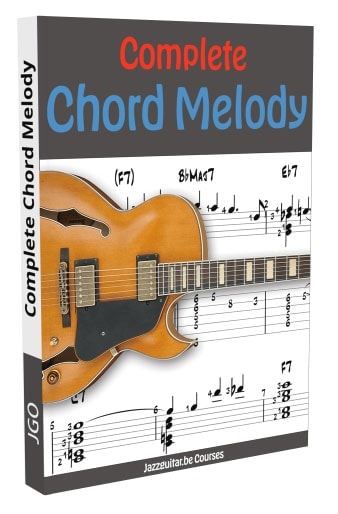 Online course + printable PDF eBook (318 pages) | Tabs, notation, audio & backing tracks | Instant access | Works on all devices, including desktops, laptops, tablets, mobile phones, Apple, Linux, and Android
Have you always dreamed of being able to play rich, intricate sounding arrangements of your favorite jazz standards on guitar, but have no idea how to get started creating these arrangements?
Chord melody is one of the most satisfying ways to play jazz guitar. It's the art of combining melody, chords, and bass lines on one guitar.
Jazz greats like Joe Pass, Tal Farlow, Ed Bickert, and Barney Kessel were masters at this chord melody technique – and their approaches have inspired many jazz guitarists across the globe.
Complete Chord Melody will give you a clear step-by-step system for creating beautiful AND playable chord melody arrangements of your favorite jazz standards.
Click the button below to take your jazz guitar playing to the next level and save more than 25%