Charlie Christian was a key figure in the evolution of the jazz guitar. He brought the guitar out of its limited role as a time keeper doing "chop chop chop" in the rhythm section, and put it into the foreground as a solo instrument.
The electric guitar and guitar amps played an important roll in this evolution. Before the era of the amplified guitar, the guitar could simply not be used as a solo instrument in the jazz bands of that time because its volume was too low. The only way a guitar could be heard was by playing chords and playing them hard.
Electric guitars and amps changed all this and Charlie Christian was the first great solo guitar player with an amplified guitar...
Guitar
Gibson ES150
Charlie Christian played a
Gibson ES150
guitar. The ES150 was the first electric guitar that had commercial success.
ES: stands for Electric Spanish
150: the guitar cost $150, EH-150 amp and a 15-foot cable included.
The Gibson ES150 was introduced in 1936 and was an enormous success in the jazz bands of that time because it produced enough volume to be heard.
Kinds of
wood
used in the production of the Gibson ES150:
Archtop: solid spruce
Back and sides: solid maple
Neck: mahogany
Fretboard: rosewood
The ES150 has a single-coil pickup in neck position that is known as the "Charlie Christian Pickup". Can Charlie Christian pickups still be found? The original Charlie Christian pickup is almost unobtainable, but there's a company in the UK that makes exact replicas of these pickups:
The Charlie Christian pickup was also used by T-bone Walker, Barney Kessel, Kenny Burrell and Wes Montgomery.
The ES150 didn't have a lot of sustain, had a bit of a muddy midrange tone and was prone to feedback when the amp was turned too loud, but this guitar was a revolution in its time.
Other guitarists that played a Gibson ES150: Eddie Durham, Floyd Smith

Guitar Amp
Gibson EH150
The Gibson EH150 guitar amp came into existence before the Gibson ES150 (it was used for lap-steel guitars).
The EH150 has a 10" speaker (later a 12") producing 15W. It has 1 microphone input, 3 instrument inputs, volume controls, a bass-tone expander and an "Echo" speaker jack.
Other guitarists using a Gibson EH150 amp: Django Reinhardt, Mary Osborne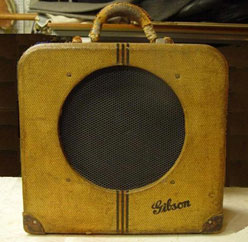 Guitar Strings
Gibson guitars at that time where shipped with heavy gauge roundwound strings, comparable with a modern set of 13's. Guitar strings were very expensive and hard to come by. Different gauges were not available.

Back to Jazz Guitar Gear