Born

July 29, 1916 in Dallas, TX

Died

March 2, 1942 in New York, NY

Active Years

1910
20
30
40
50
60
70
80
90
2000

Styles

Influences

Lester Young
Lonnie Johnson
Eddie Lang

Guitar Gear

Charlie Christian's Guitar Gear



All about Charlie's guitars and amps..
"There is no question that Charlie Christian represents the genesis of modern jazz guitar..."
There is no question that Charlie Christian represents the genesis of modern jazz guitar. Christian's fluid, melodic lines that could swing like horn, set both the gold standard and template for virtually all jazz guitarists to follow.
Until Christian came on the jazz scene, the guitar was predominantly a secondary voice and primarily constrained to a rhythmic role, although Eddie Lang, Lonnie Johnson and Django Reinhardt represented some early exponents of the acoustic jazz guitar as a dominant solo instrument.
Christian not only took the guitar to a new level of electric amplification, he jettisoned it into a lead solo spot that would eventually gain greater prominence and endure until this day. It could safely be postulated that if not for Charlie Christian's brilliant seminal work in electric jazz guitar, there wouldn't have been a Wes Montgomery, George Benson, John McLaughlin, Chuck Berry, B.B. King, Eric Clapton or Jimi Hendrix.
Charlie's Influences
All jazz guitar players who came on the scene between 1940 and the 1960s cut their teeth on the solos of Charlie Christian who's style and approach served as a guide and foundation to their cognitive grasp of jazz guitar. Christian's style was a direct ancestor of the bop sound which eventually evolved into the more complex stylings of Tal Farlow, Johnny Smith, and Joe Pass.
However, Christians influence was so pervasive and far ranging, it even infected his direct competitors as well as followers such as Tiny Grimes, Billy Baur, Billy Bean, Les Paul, Oscar Moore (Nat King Cole trio), Herb Ellis, Jimmy Raney and Barney Kessel, all of whom continued to expand upon Christian's basic model with incredible creativity, each developing his own unique voice that would in turn, continue Christian's legacy of jazz guitar evolution.
"Christian was literally the first to explore the new realm of electric guitar..."
No doubt Christian himself was probably influenced and inspired by the virtuosos of his time like Eddie Lang and Django Reinhardt. Christian was the literally the first to explore the new realm of amplified electric guitar as opposed to Lang and Django who played acoustic models.
Christian's primary musical influence, in terms of his articulated swinging solos, was legendary saxophonist Lester Young. It was Young's mercurial sax that seized the imagination of Christian and subsequently stimulated his quest to develop a similar sound on the electric guitar. By emulating a sax, Christian was able to meticulously develop a fluid guitar solo technique that was unprecedented in jazz guitar history.
Christian, who left this planet too soon at the age of 25, was originally a piano player in Oklahoma. After leaving his birth place of Texas (by 1937) he began to experiment with the electric, amplified guitar after studying with the inventor of the guitar amplifier, Eddie Durham. Originally using a primitive acoustic guitar with an attached pick-up, he used the new novel amplifier to excite and rivet audiences where ever he performed eventually catching the attention of pianist Mary Lou Williams in Oklahoma City around 1939. It was Williams who introduced Christian to producer John Hammond...
Charlie Christian and Benny Goodman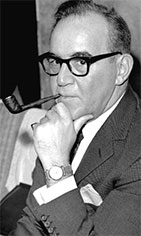 In 1939, Charlie was invited by Hammond to try out for Benny Goodman's Sextet in Los Angeles. Goodman was the first white band leader who employed black musicians, but during a very short audition he wasn't very impressed by Charlie Christian's playing. Hammond didn't give up though and sneaked Charlie onstage during a concert without informing Goodman. Goodman got angry because of this and launched his song 'Rose Room', assuming Charlie didn't know it. Charlie knew the song though and his solo impressed Goodmand, who immediately became infatuated by his infectious and virtuose guitar abilities, calling it "unbelievable".
Benny Goodman accepted Christian as his guitarist for the next two years prominently featuring him whenever possible including his most famous of all solos, Solo Flight which was played with Goodman's full orchestra. Solo Flight, beyond any other known work by a renown jazz guitarist, has been mentioned by countless prominent and famous guitarists as the primary impetus that drove their interest and inspiration for playing jazz guitar.
It has been arguably noted that Goodman as well as all other musicians exposed to Christian, were inspired to expand their solo dynamics and play their best. Some jazz aficionados believe Goodman himself excelled to new heights while Christian was a member of his orchestra. Many of Christian's solo line concepts were reflected in tunes like Seven Come Eleven, Charlie's Idea, and Breakfast Feud. Eventually Charlie Christian played in the Benny Goodman Sextet and Orchestra from August 1939 until June 1941.
Charlie & Bebop
Charlie Christian was one of the pioneers and key figures of the bebop and played an important role in the transition from swing to bebop.
While performing at the popular Minton's Playhouse in 1940, Christian had the opportunity to play and jam with some of the jazz worlds most famous budding talents such as Thelonious Monk, Charlie Parker, Thelonious Monk and Kenny Clark among others. It was Minton's Playhouse that Christian found a second home, performing there long into the night, often until 4am with many of the jazz greats who found a haven there to experiment and jam.
Following his daytime duties with Benny Goodman, Christian would quickly run to Minton's and dazzle audiences night after night, performing such legendary pieces like Stompin at the Savoy and Charlie's Choice which have been preserved on recordings (originally released on Vox records in 1947).
Charlie Christian & The Electric Guitar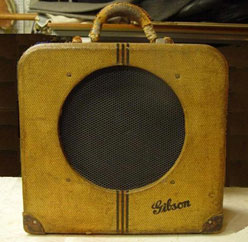 Charlie Christian was one of the first guitarists playing electric. He used the first electric guitar that was a commercial success, the Gibson ES150. This guitar together with the Gibson EH150 produced enough volume and sustain for single note lines to be heard in a big band, something that's hard to achieve with an acoustic guitar. Partially thanks to "modern" technique, Charlie Christian brought jazz guitar out of the rhythm section.

Read more about Charlie Christian's Gear here...
Charlie Christian's Guitar Technique
Christian's superior and innovative technique very likely had such an impact on other musicians, that it might have laid the groundwork for expanding the harmonic boundaries of jazz soloing, not only influencing Dizzy Gillespie and Thelonious Monk, but eventually leading to the groundbreaking jazz experimentations and virtuosity of Charlie Parker, which directly lead to the dissonant sounds of John Coltrane, Miles Davis, Herbie Hancock and a new generation of jazz innovation.
Christian's technique is well documented in multiple books and lesson studies that exist for today's jazz guitar student. His technique encompasses a vast clinic on how to play flowing, modulated, jazz lines over multiple chord progressions that are strongly rooted in the 2-5 and 1-6-2-5 cornerstone of jazz and diatonic harmony.
"Christian was one of the first to creatively execute fluid single note lines that defined the harmony of a tune..."
Christian was was one of the first jazz guitarists to creatively execute fluid single note lines that defined the melodic harmonic points and extended harmonies of the diatonic progression in a linear fashion. His notes are crisply picked, articulated cascades of improvisation strongly simulating the swing era sax lines such as Lester Young.
Charlie Christian used the entire neck in the manner that most jazz greats do, accessing the full length of the fretboard in order to facilitate dexterity, pitch and sonic ambience.
Charlie used a technique that is now quiet common in jazz music, but not at that time, called tension and release. This technique helped to keep the music interesting for the listener. Tension is usually built up on the dominant chord by using altered chords and released on the tonic chord.
Charlie's End
Although Charlie Christian was not a drug addict, like a lot of his colleagues, his lifestyle was pretty hectic, staying late at jam sessions and not eating very well. In 1940 he was hospitalized a few times to be treated for tuberculosis. Not being able to adapt his lifestyle, he was hospitalized again early 1942 in NY, where he died March 2 at the age of 25. He is buried in Bonham, Texas.
Although Christian's time on this planet was tragically abbreviated, his mark will be indelibly carved into the historic evolutionary root of modern jazz guitar soloing. Charlie's brief catalog of guitar work has become the conscious and unconscious DNA of all jazz guitarists who have followed and could be literally defined as the one guitar who spawned all the succeeding progeny of jazz guitar players. It is no exaggeration that by historical standards, Christian can justifiably and accurately be referred to as the "father" of modern jazz guitar.
Charlie Christian Stuff to Remember
Charlie Christian was the first successful electric guitar player.
He transformed the guitar from a rhythm instrument to a solo instrument.
His main influence was saxophone player Lester Young, hence his horn-like lines.
His influence on jazz and jazz guitar is enormous.
Charlie Christian was an important member of Benny Goodman's Sextet and Orchestra.
He was one of the pioneers and key figures of the bebop.
He played a Gibson ES150, one of the first electric guitars.
He was one of the first guitarists to play single-note lines in which you can hear the harmony of the composition.
Charlie died much too young, at the age of 25.
More Charlie Christian Here

Back to Jazz Guitar Legends