When heading to the practice room in the 21st century, jazz guitarists have a treasure trove of material and tools at their disposal to choose from when setting up their daily and weekly practice routines. With so many apps and software packages to choose from, it can be difficult to know where you should spend your money in order to get the most bang for your buck in the woodshed.
Song Surgeon allows guitarists of all levels to slow down, loop, change the key and download their favorite songs from Youtube.
Song Surgeon 4 Overview
Song Surgeon has a myriad of useful features, but I believe jazz guitarists will mainly use the program for the following 2 purposes:
Transcribing songs and solos: by slowing down and looping difficult to hear passages, they become a lot easier to transcribe.
Playing over backing tracks Song Surgeon makes it easy to transpose and slow down backing tracks so you can practice at your own tempo and in any key you like. You can also loop and isolate difficult passages of the chord changes.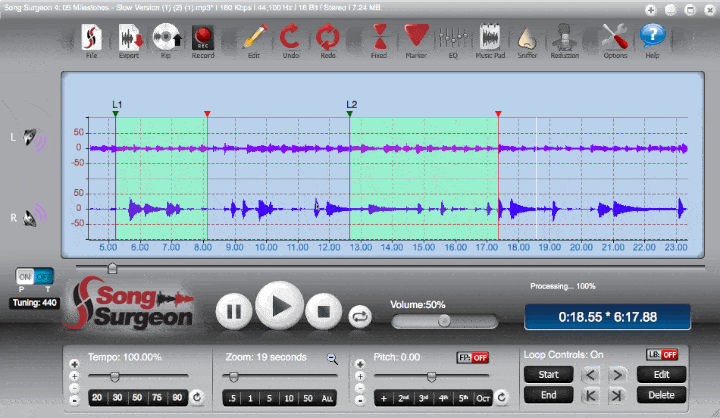 While YouTube has provided millions of guitarists the ability to access rare and even out of print songs by their favorite artists, it can be difficult to learn these tracks directly from the site. One of the most interesting features of Song Surgeon is it allows you to download Youtube videos and translate them to audio files.
From there, you can adjust the tuning of the track (which is very important for older tracks or tracks that have been uploaded from vinyl).
With two clicks of your mouse you can set loops over any lick in order to listen to it over and over when transcribing your favorite solos and phrases.
You can also slow down any tune with the click of a button, and reset the tempo with one click to jump back to the original speed after you've lifted that tricky phrase from a solo.
Song Surgeon Video Demos
Click the video links below to watch two demos that feature four essential practice functions from Song Surgeon 4.
Video 1 demos tempo and pitch adjustment:
Video 2 demos the Youtube sniffer and looping:
Summary
If you are looking for a practice room tool that will allow you to turn your favorite YouTube videos into audio files, loop licks from solos you are transcribing, slow down and transpose licks and entire songs, then Song Surgeon 4 is for you.