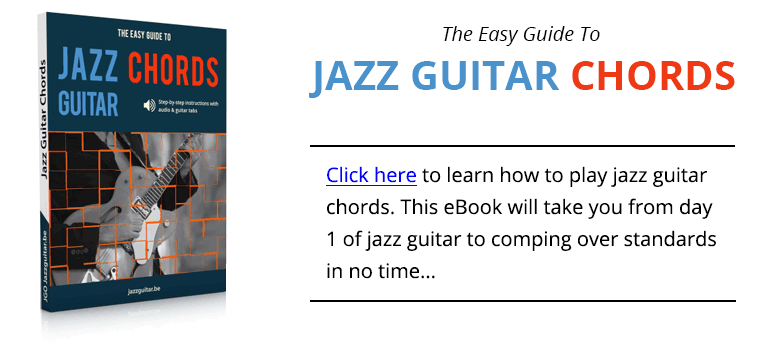 As well as working on comping over medium and up-tempo jazz standards in your practice routine, it is also important to work on ballads as you learn how to apply your chord vocabulary to a much slower tempo than you might be used to.
We often think that playing fast-tempo tunes as being the toughest changes to comp over, but very slow tempos can be just as challenging.
Because ballads often have more chords in each bar, and move into a number of key centers, these slow-tempo tunes can pose their own unique challenges in the woodshed and out on the bandstand.
To help you get your hands around a famous ballad, here is a chord study over the tune Misty that will build your ballad comping vocabulary in your jazz guitar practice routine.
As there are a number of variations on the chord changes to Misty, you might normally play a few chords that you see here as m7 chords as 7th chords, such as the Gm7 and Fm7 chords in bars 5 and 6 of the A section.
If this is the case, you can learn these new chords and combine them with the changes you normally play for Misty in your playing.
Often times Standards will have several common ways to comp through the chords, so checking out a few different versions of the tune will prepare you for a jam or gigging situation when this tune comes up on the bandstand.
5 Essential Jazz Guitar Chord Phrases
When playing at a ballad tempo, often times we can't rely solely on our normal compnig patterns that we would apply to a medium or up-tempo tune.
In order to outline the chord changes and sound hip at the same time, you can work on applying chord vocabulary in the form of short ii-V and ii-V-I phrases to your comping ideas.
To help you build your jazz chord phrase vocabulary, for this or any tune, here are five classic phrases that are used in the chord study below, which are highlighted in the tab/notation for you to see.
Practice these phrases in a number of keys around the fretboard, as well as apply them to other tunes you are working on in order to fully understand and digest these chord lines in the woodshed.
Jazz Chord Phrase 1
The first phrase features Drop 2 chords, a 4th chord (which is built by stacking fourth intervals from the lowest note), and a rootless 13th chord (where the root has been removed but the essence of the chord is maintained).
Jazz Chord Phrase 2
In this minor key ii-V-I, you will use a common chord sub over 7alt chords, where you play a m7b5 chord from the b7 of the underlying change.
This means that for Gm7b5-C7alt you play Gm7b5-Bbm7b5 in order to outline the b7-3-b13-b9 of the C7alt chord.
Jazz Chord Phrase 3
In this Ed Bickert inspired phrase, you will play a commonly used descending bassline ove the Bbm7 chord in this ii-V-I phrase in Ab.
Here, you are starting on the 9th, C, as the lowest note of the chord and then moving down to the 3rd of Eb7, G, using both chromatic and diatonic notes over those changes.
Ed loved to use this type of descending bassline in his playing, and it's a great way to add moving in the lower voice of your chords when comping and chord soloing over common changes.
Jazz Chord Phrase 4
This phrase comes directly from the Joe Pass playbook, as it uses a common chord lick at the start of the phrase that can be found in many of Joe's classic recordings.
The essence of this phrase is that you are playing a Drop 2 Bbm7 chord with the 3rd as the highest note.
From there, you climb up the scale by playing the 4th, 5th and b7th of that chord until you reach a rootless Eb7 chord in the second half of the bar.
Working this phrase, especially over the Bbm7 chord, will bring a bit of Joe's classic chord sound to your jazz guitar chord lines and phrases.
Jazz Chord Phrase 5
The final essential chord phrase is also inspired by Joe Pass and features an Abmaj7 chord being used over Fm7, which produces the intervals b3-5-b7-9 over the Fm7 chord, as well as a few rootless chords over the Bb7 and Ebmaj7 chords in this phrase.
Also, check out the Gb over the Bb7 chord, which is the "blues note" from the key of Eb major, and brings a bluesy vibe to this line as you then resolve it to the major third over the Ebmaj7 chord at the end of the phrase.
Misty Jazz Guitar Chords – Comping Study
Here is the full chord study for your to work out and add to your playing in the woodshed.
Since Misty is a ballad, and played at a slow tempo, you can see there are a lot of chords used in each bar, four bar phrase and the study as a whole.
Because of this, try breaking up the study into smaller, easy to digest chunks, rather than diving into all 32 bars at once.
To do so, you can work on one bar at a time, two bars, four bars or eight bars, as you learn smaller phrases in order to combine them at a later time to form the study as a whole.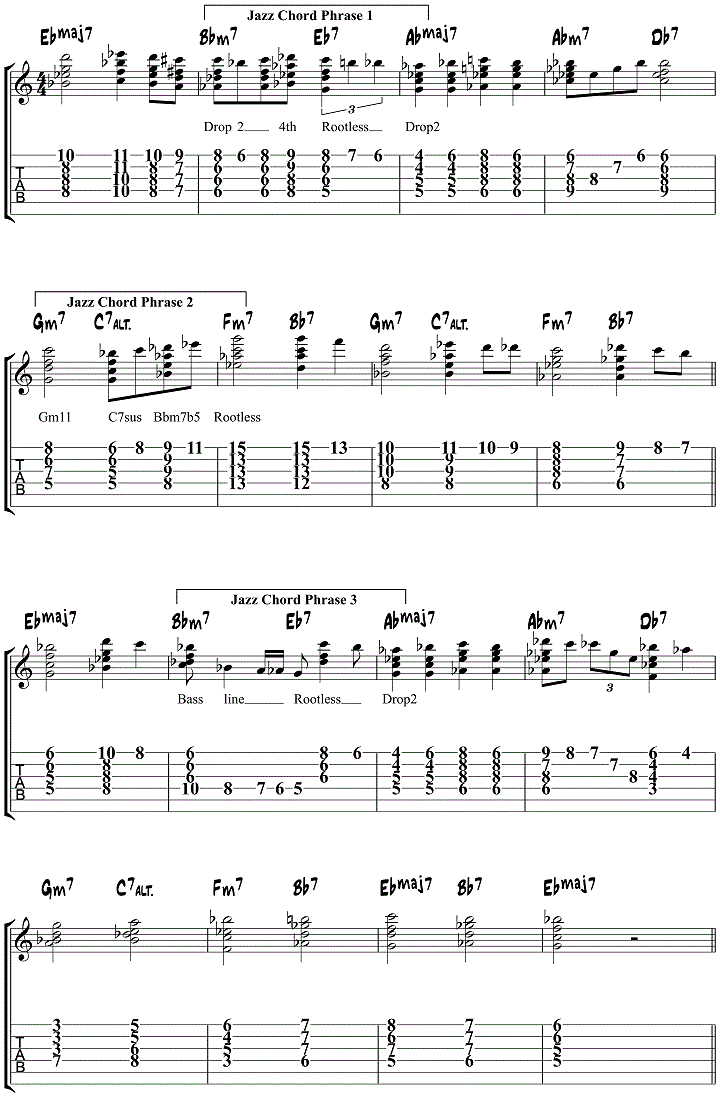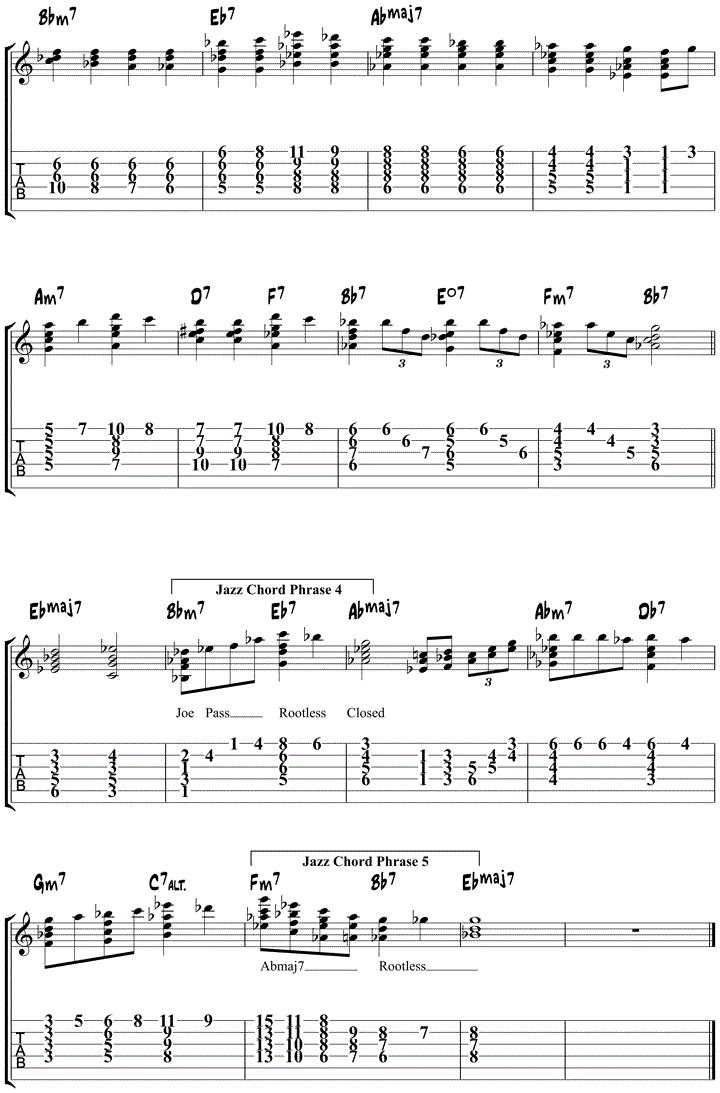 Misty Backing Track
To help you work on this study, and the tune Misty itself, further in the practice room, here is a backing track for the tune with the piano taken out so that you can work chords and chord phrases over this track.
Listen & Play Along

Do you have a question or comment about these Misty jazz guitar chords? Share your thoughts in the COMMENTS section below.