One of the albums that many guitarists check out when first exploring the jazz genre is Kenny Burrell's Midnight Blue record. As well, since it was covered by Stevie Ray Vaughan, a lot of players are drawn to the classic tune "Chitlins Con Carne."
When learning how to play in the style of Kenny Burrell, especially like a tune such as Chitlins, one of the key elements to explore is mixing chords and single-lines during each phrase of an improvised chorus, which you can hear during the melody section of Chitlins especially.
To help you get that cool-sounding Kenny Burrell chord/single-note sound in your jazz guitar soloing ideas, this lesson will explore a sample solo written out of an A minor blues chord progression that is inspired by Kenny's playing on Midnight Blue and "Chitlins Con Carne."
The single notes in the solo are all based on the A minor blues scale, and the chords used are typical, three-note shapes that many jazz guitarists use in this type of soloing/comping situation, including Kenny.
So, grab your axe and let's dig into some smooth sounding cool jazz in the style of Kenny Burrell.
Kenny Burrell Chitlins Con Carne
Kenny Burrell Minor Blues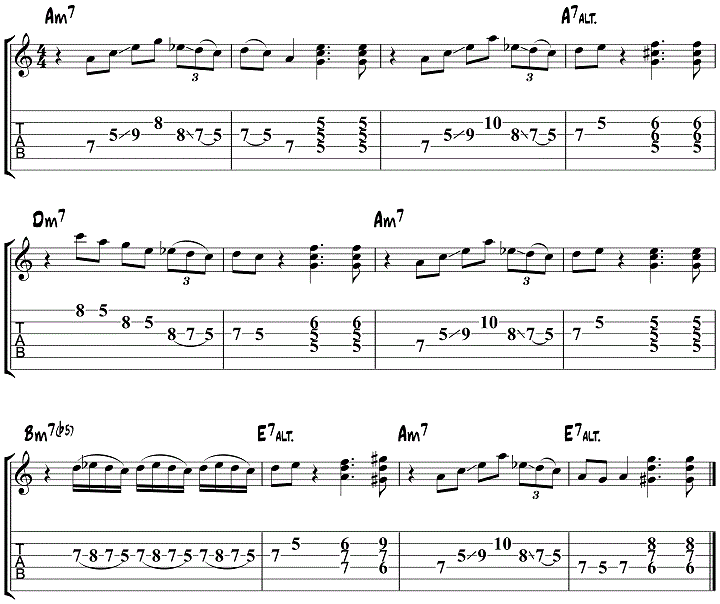 Kenny Burrell Minor Blues Backing Track
Here is a short backing track that you can use to practice the solo in this lesson, as well as work on improvising over the minor blues chord progression in the woodshed.
Practicing This Solo
Learning a solo from memory is a great way to digest the material in that improvisation, but there are also other exercises that you can use to continue your study of this material in the woodshed.
Here are 3 ways that you can continue your study of this Kenny Burrell Minor Blues Solo as you dig deeper into the concepts in this solo in the practice room.
1. Play the solo with a backing track over the first chorus, during the second chorus you improvise the single lines but keep the chords as is. Continue this alteration throughout the backing track.
2. Write out your own Kenny Burrell inspired solo over an A minor blues progression, using the blues scale for the single notes, and small, three-note chords for the comping sections of the solo.
3. Practice singing an improvised single-line where you see the single-notes in the solo above, then comp the chords on the guitar where they land. This is a great way to connect your ears and voice to your fretboard while working on a minor blues solo at the same time.
To learn more about jazz blues guitar playing, check out our ebook: