When studying jazz blues soloing concepts, we know that in order to bring a more authentic jazz sound to our lines that we need to move beyond the minor blues scale shapes that we learned in our rock and blues studies. But what is the best approach to take when first exploring non-pentatonic soloing ideas?
In this lesson, we'll be looking at a simple, yet highly effective, jazz blues soloing concept involving arpeggios that you can use as a gateway into outlining each chord change in a jazz blues progression.
Check this arpeggio concept out and see how it fits into your jazz blues soloing approach as you explore this idea over a Bb blues, in the examples below, and other keys as you expand up this concept in the woodshed.
Maj6 Arpeggio
To begin, let's look at a common fingering for the maj6 arpeggio, which you can then use to outline the I7 chord over any blues progression that you are soloing on.
Here is a Bbmaj6 arpeggio to memorize and begin to solo with, perhaps over a static Bb7 vamp to begin and then over a full blues progression once you have that under your fingers.

Notice that the notes of this arpeggio (1-3-5-6), when played over a 7th chord highlight the root, 3rd, 5th and 13th of that chord, as the 6th when played over a dominant chord is written and heard as the 13th rather than the 6th. The 13th is just the 6th but raised an octave.
Once you have this shape under your fingers, you can try soloing over a Bb blues progression, using the Bbmaj6 arpeggio to solo over each Bb7 chord, and then to keep things simple, use the Bb minor blues scale over the rest of the changes.
Min6 Arpeggio
Now that you have the I7 arpeggio under your fingers, all you are going to do in order to address the IV7 chord in a jazz blues solo is change one note from that initial arpeggio.
By lowering the 3rd of the Bbmaj6 arpeggio, creating a Bbm6 arpeggio in the process, you can now apply this new shape to the Eb7 chord, IV7, when soloing over a jazz blues.
The notes of the Bbm6 arpeggio, when played over Eb7, produces the intervals 5-b7-9-3, giving you a rootless 9th arpeggio to use in your solos over the IV7 chord.
Here is how that fingering would look like if you took the exact shape from the previous example and just lowered the 3rd note.

Now that you have both of these shapes under your fingers, try soloing over a Bb blues progression using the Bbmaj6 arpeggio for the Bb7 chord, and the Bbm6 arpeggio for the Eb7 chord.
If you are finding this a bit tricky at first, or just want to bring a more melodic focus to your lines right away, try playing a lick over Bb7, such as 1-3-5-3, then repeat that same lick but just lower the 3rd over the Eb7 chord, 1-b3-5-b3.
Doing so can allow you to get a lot of mileage out of a single idea as you can play the exact same thing over both chords, you just alter the 3rd to make it fit each change in the progression.
Maj6 and Min6 Blues Licks
With the maj6 and m6 arpeggios under your fingers, and a bit of experimentation underway, here are a few sample licks to try out, work in 12 keys, and bring into your jazz soloing lines as you move forward in your jazz blues soloing development.
With this first sample lick, you are playing phrase A over the Bb7 chord, then repeating this same phrase over the IV7 chord but with the m6 arpeggio added in, before returning to Phrase A with an ending added on to complete the lick.
When using the maj6 and m6 jazz blues soloing concept in your lines, you can use this organization to help keep things locked together and melody in your lines, Phrase A – Phrase A with b3 – Phrase A with ending lick.

In this second lick, you will be adding in the m3rd note, considered one of the "blues" notes, over the I7 chord to bring a bit of a bluesy flavor to the line overall.
When using the maj6 and m6 jazz blues soloing concept in this way, you can add in notes from the surrounding blues scale in order to spice things up, and break up the arpeggiated nature of the exercise at the same time.

After you have worked out these licks in your practice routine, and taken them to your jazz blues soloing ideas, try writing out 3 to 5 similar licks of your own in order to see and hear how this jazz blues soloing concept fits into your own voice and musical personality.
Maj6 and Min6 Blues Solo
To help you get started in applying this jazz guitar soloing concept to a tune, here is a sample solo using simple maj6 and min6 licks to outline the I7 and IV7 chord over a Bb jazz blues chord progression.
Start by learning this solo note for note, then begin to improvise over a Bb blues using these ideas as inspiration as you begin to transition from playing this blues solo study and into fully improvising with this concept in your playing.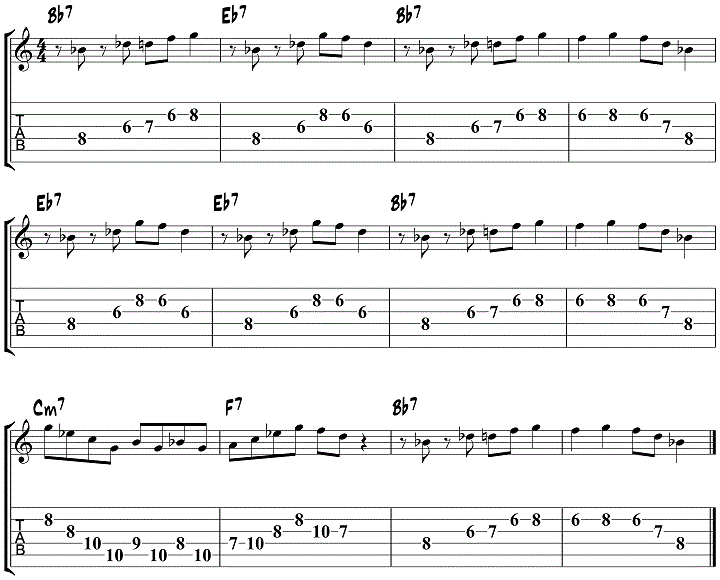 Do you have any questions or thoughts about this jazz blues soloing technique? Share your thoughts in the comments section below.
To learn more about how to solo over a jazz blues, check out our latest ebook: