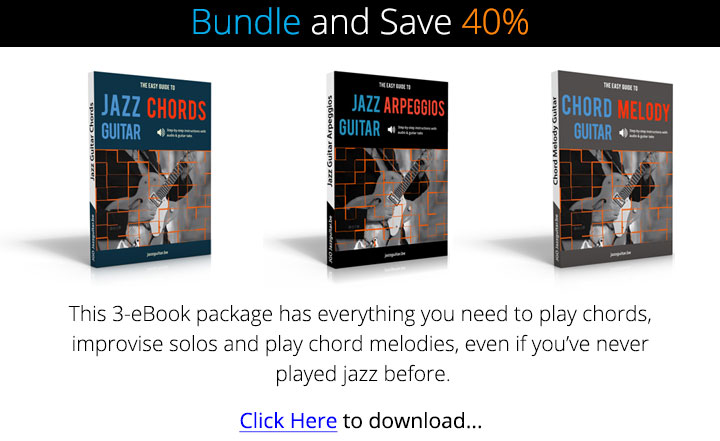 When learning to play jazz chords on guitar, you often turn to other guitarists for inspiration and to grab chord shapes to use in your playing. But, while learning from guitarists is helpful, you can also turn to pianists to grab shapes that can be played, or adapted to be played, on the fretboard.
One of the best jazz pianists, in general and for stealing chords from, is Herbie Hancock. Herbie has a deep sense of the jazz tradition in his playing, and is groundbreaking and modern at the same time.
Because of this combination, you often find subtle twists on common chords in Herbie's playing that make them harmonically interesting.
In this lesson you learn how to take a closed chord, give it the Herbie treatment, and then adjust those shapes to fit on the fretboard. Have fun with these chord shapes. They're not always easy to play, but when you get them under your fingers they add a new harmonic dimension to your playing.
Herbie Hancock Chord Shapes
Before you dig into these shapes, know that these chords aren't only used by Herbie Hancock, they're used by many great jazz pianists in their comping and chord work. But, they're a sound that I've always associated with Herbie as he's the first player I heard use these chord shapes.
The chords themselves are inversions of a closed-position chord shape.
Closed chords are chords that are played in note order, so 1357, as compared to say a Drop 2 chord which is played 1573. Closed chords can often sound plain, as they're just the direct notes of the chord in alphabetical order.
So, what does Herbie do to make these common chords sound hip?
He takes the top note and lowers it an octave to form an inversion of these chords. When doing so, the 1357 chord shapes become 7135 shapes.
Here's how the closed and Herbie chords look for Bb7 and Cm7 to see the comparison.
If you play these chords, you'll quickly notice that they're doable, but you need to make a big stretch to make them playable. This is where you need to move on to the next section to learn how to adjust these shapes slightly to make them more playable on guitar.

Herbie Shapes on Guitar
As you saw in the first section, the Herbie chords are cool, but tough to play on guitar. So how do we make them easier to grab on the fretboard?
The answer is to add extensions to these chord shapes. When changing the 7ths to 13ths, m7 to m9, and 7th to 7alt, you bring cool-sounding extensions to these chords shapes, and make them easier to play on guitar.
Play through these shapes slowly to hear how they sound and see how they fit on the fretboard. Then, when you're ready, move on to the next section where you hear and play these chords over a Bb jazz blues chord progression.

Herbie Chord Shapes Blues
Now that you've checked out closed position shapes and the Herbie inversion, as well as adjusted them for guitar, you can take them to a blues.
In this chord study, you learn how to apply the Herbie chords to the guitar over a jazz blues chord progression in Bb.
The chords are written and played in the demo as whole and half notes, no rhythmic interest, to help you learn the chords at first. After you can play the chords below from memory, add in your own rhythms and picking patterns to expand these shapes in your playing.
From there, take any of these chord shapes you like and add them to your comping, chord solos, and chord melody over other tunes.
You won't like every version of these chords, or be able to play them all depending on the stretches, but the ones you do like, dig deep on.
Have fun with these chords, experiment with them, and see how a little voicing from Herbie's repertoire opens new harmonic doors in your guitar playing.
Backing Track
Listen and Play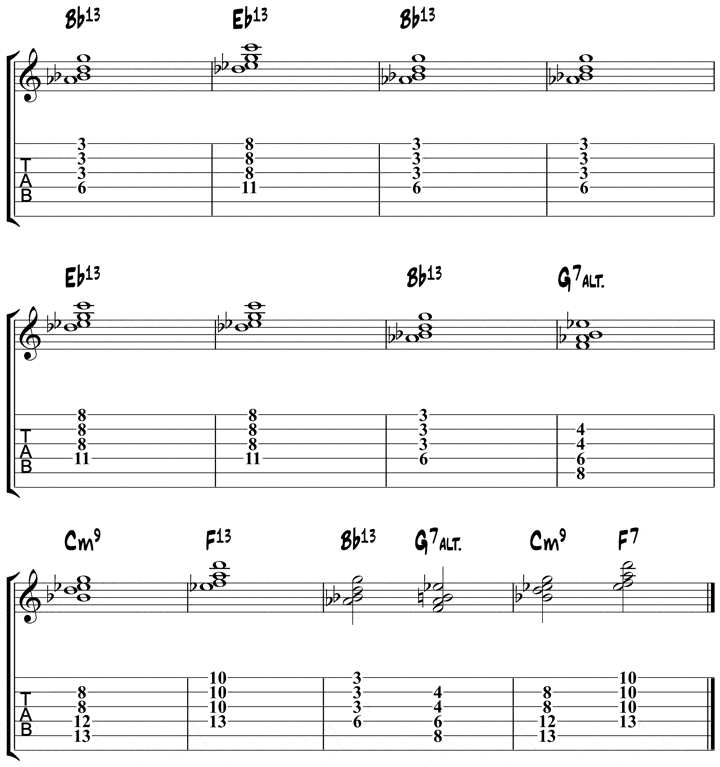 &nbsp
&nbsp