Here's a cool tune, called Full Count and written by jazz and blues guitarist Chuck D'Aloia. Originally, the song is played fustion-style, have a look at this video for Chuck's recording:
Here's my recording of the melody, played in a more classic jazz style:

Here's a backing track you can use to practice:
The A part of the melody is played over a rhythm changes in G.
The main building block of the melody is an Em7b5 arpeggio (E G Bb D = Gm6).
Played over G7, this gives us 2 distinctive notes:
E: results in a G13 sound.
Bb: one of the the blue notes. Although the chord G7 contains a natural 3 (B), a b3 (Bb) is played in the melody. This friction between the minor nature of the melody and the major nature of the chords is an important element of the blues sound. The blue notes are a result of the combination of African elements in Western music.
Here's how the Em7b5 arpeggio looks like: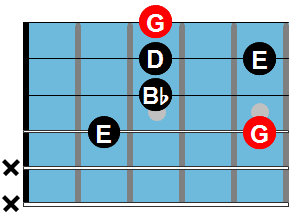 Also check out Chuck D'Aloia's website for more of his music: www.chuckdaloiamusic.com