Lenny Breau was one of the all-time great jazz guitarists. His ability to solo with single-notes and chords, play high-level chord melodies as well as adapt his playing to solo, duo, trio and larger group playing made Lenny a legend in the industry. While there are many aspects of Lenny's playing that you can break down and work on in the practice room, one of the most important is Lenny's two-note comping technique.
Though it may seem obvious in hindsight, by breaking down any chord to the 3rd and 7th, and then adding color tones on top of those two notes, Lenny created a unique comping voice that is as easily recognizable today as it was back in the '60s when he first hit the scene and began turning heads in the jazz guitar world.
In this lesson, you'll learn how to play 3rd and 7th chords over an F blues on the guitar, as well as learn a full chorus of F blues that mixes these two-note chords with melody notes to bring a cool-sounding jazz blues into your vocabulary.
Once you have explored the 3rds and 7ths on the 3rd and 4th strings, as in the examples below, you can expand on this concept by taking these notes to the 4th and 5th strings as well, and then mixing these two string sets together as you move forward with this chordal approach in the practice room.
Lenny Breau Two Note Chords
Before we dive into the blues in F chord study, let's take a look at the two-note 3rd and 7th chords, how they're built and how they look on the fretboard, so that you can have an understanding of the building blocks of this lesson, which focusses on the 3rd and 4th string set.
The 3rd and 7th are the two most important notes of any chord you are playing in a jazz context. The 3rd tells you if the chord is major or minor, and from there the 7th tells you if the chord is a major 7th, 7th, m7th etc. when applied to a chord progression.
As well, these two notes are enough to outline the chord changes to any jazz tune, which leaves two to three fretting-hand fingers open to add other chord tones on top of those notes, or full melody lines as in the chord study in the example below.
When playing these two notes on the fretboard, you can use your fingers, or a pick and fingers for each two-note shape. If you use your fingers, play the lowest note with your thumb and highest note with your index finger. As well, if you use a pick, play the lowest note with your pick and the highest note with your middle finger.
To help you get the lower two notes, the 3rd and 7th of each change, under your fingers before you attempt the full chord study, here are those notes over an F blues without the melody line on top.
Work on these shapes until you can play them from memory with the audio track, then move on to the full blues in F chord study in the next section of this lesson.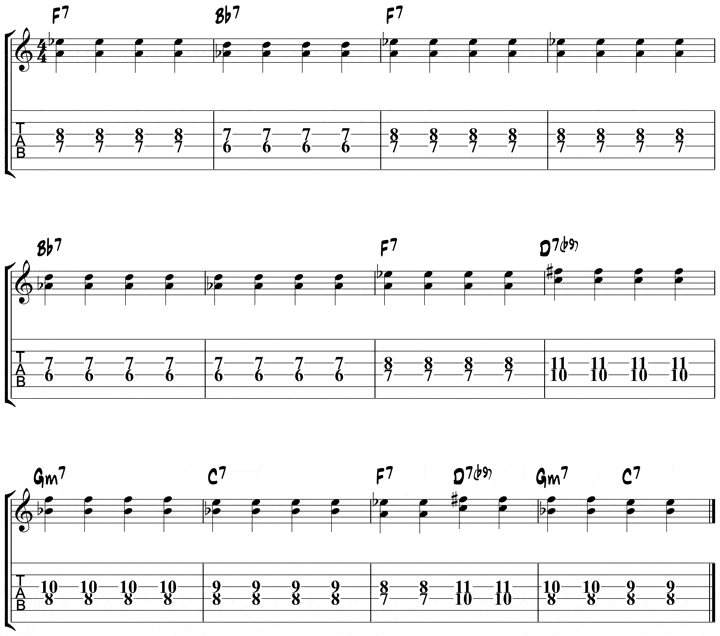 Blues in F Chord Study
Now that you have explored the background behind two-note chord voicings, and practiced a few of them on their own, you are now ready to work on the full Blues in F study in your woodshedding.
Keep the same picking technique that you used in the first example from this lesson. So, if you use your fingers, play the 3rd and 7th with your thumb and index finger and the upper notes with the other fingers in your picking hand.
If you use a pick, play the lowest two notes with your pick and middle finger, and then play the upper melody line with the other fingers in your picking hand.
Start by working one bar at a time, especially if you are new to this technique, and piece things together from there as you master each bar in the tune.
Once you have worked things one bar at a time and glued them all together, then you are ready to play the whole study from start to finish.
Even when you have the whole study under your fingers, keep things slow with a metronome and work up the tempo from there until you reach the tempo in the audio example in your practice routine.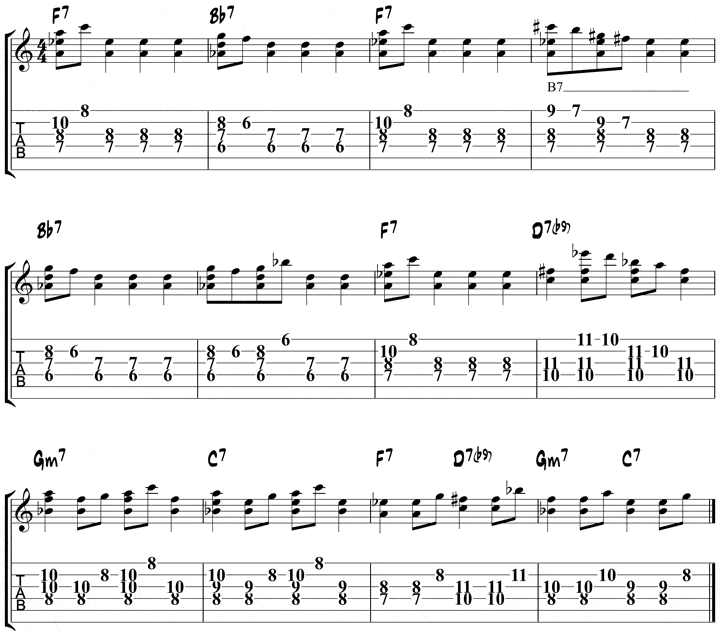 Blues in F Backing Track
To help you practice this chord study, as well as come up with chord studies of your own, here is a Blues in F backing track with only bass and drums that you can use in your jazz guitar practice routine.
Do you have a question about this Blues in F Chord Study? Share your thoughts in the comments section below.