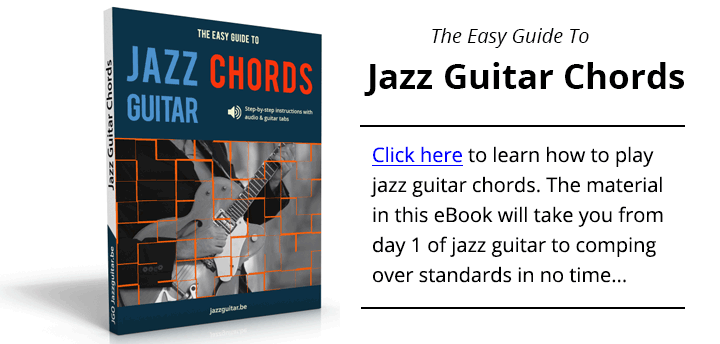 Along with the Jazz Blues Form, Rhythm Changes is one of the most commonly studied, and jammed on, forms in the jazz guitar world. Learning how to comfortably and convincingly comp a Bb Rhythm Changes will ensure that you are ready for your next jam session, as well as get this important 32-bar song form into your ears and under your fingers.
In this lesson, you will learn how to apply different chord concepts to the Rhythm Changes form, as well as study a chord etude written over a Bb Rhythm Changes that utilizes these concepts in its construction.
What's In This Study
To help you develop an understanding of the various chord approaches used in this Bb Rhythm Changes Chord Study, here is some background on each of the chords used in this study.
If you find that you dig a certain chord type from this study, feel free to isolate that one chord type and explore it further in your practice routine.
6th Chords – When playing over maj7 chords, you can play the relative minor chord to create a 6th sound over that change. You can see this in the study where you play Gm7 over Bbmaj7 to create a Bb6 sound.
Dim7 – If you see a 7b9 chord in any tune you are playing, you can play a dim7 chord from the b9, 3, 5 or b7 interval of that chord, such as playing Abdim7, Bdim7, Ddim7 or Fdim7 chord over G7b9 in this study.
Drop2 – These chords are built with the interval structure R-5-7-3 with the inversions worked out from that root-position shape.
7alt – In this instance, 7alt chords are being built by playing a maj7#11 chord from the 3rd of the underlying shape, such as playing Bmaj7#11 over G7 to create a G7#9b13 sound.
3 to 9 – These rootless shapes are built by playing the 3rd, 5th, 7th and 9th of the chord your are on, essentially replacing the root with the 9th of any shape you are playing to create this new sound.
13th Chords – 13th chords are built in several different ways, but one of the most commonly used is to replace the 5th of the chord with the 13th, which is a tone higher than that interval in any 7th chord shape.
4th Chords – Built by stacking 4th intervals, as opposed to the traditional 3rd intervals, these shapes have a more modern sound to them as compared to Drop 2 or other commonly used chord shapes.
Lyd Sub – In this chord approach, you are playing a maj7#11 from the b7 note of a 7th chord, basically playing the Lydian chord from that key over the V7 chord in the changes. This creates a V13 sound when applied to a 7th chord in a comping situation.
Now that you have an understanding of the various chords used in this chord study, you are now ready to learn the study itself, getting each of these concepts under your fingers in a musical situation.
Bb Rhythm Changes Chord Study
Here is the full chord study that you can work on and take to the fretboard in your jazz guitar practice routine.
As the study is 32 bars long, it would be a good idea to start by working on 4-bar phrases, leading to 8-bar phrases and finally the entire tune as you break down this study into easy to digest chunks.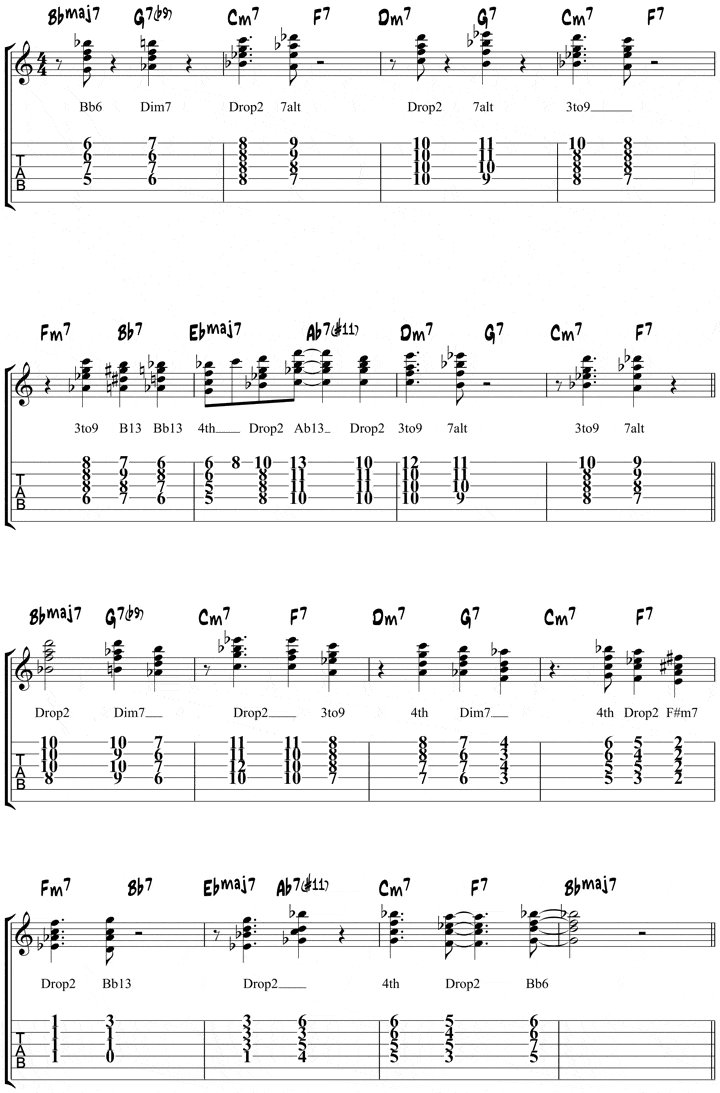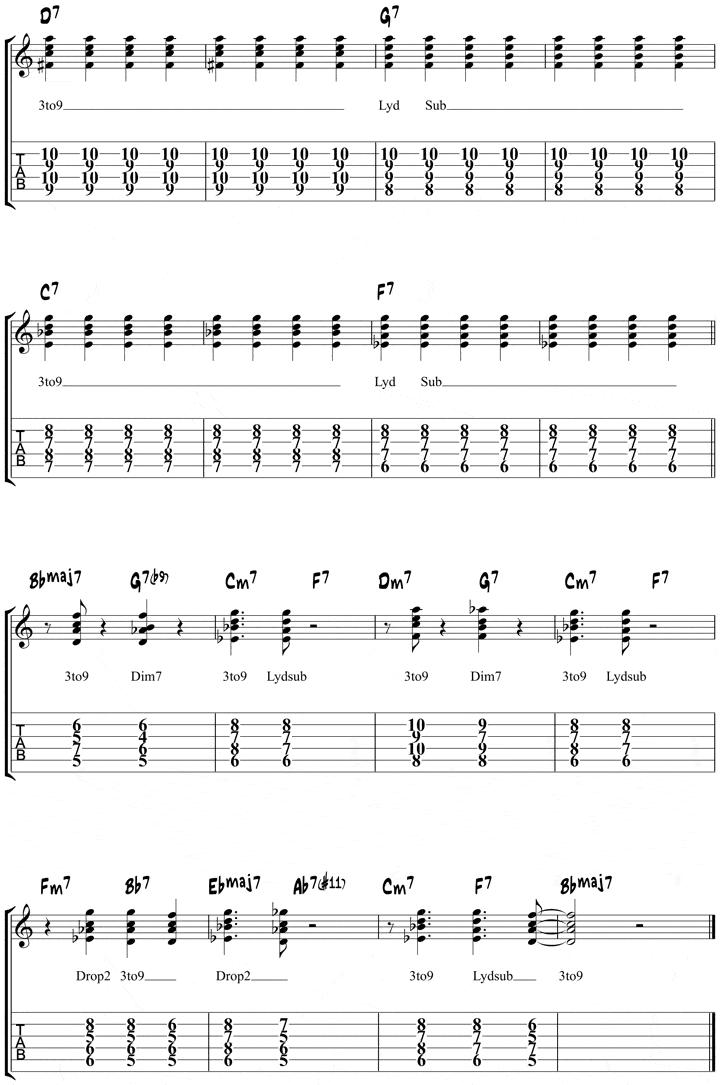 Bb Rhythm Changes Backing Track
As well as working on the chord study in your practice routine, here is a Bb Rhythm Changes backing track that you can use to work on these concepts further in the woodshed.
Start by playing the above study over this backing track, and then come up with your own chord studies as you take these ideas further in your practice routine.
Do you have a question or comment about this Bb Rhythm Changes Chord Study? Share your thoughts in the comments section below.