Learning to play jazzy sounding chords is one of the most enjoyable and challenging parts of playing jazz guitar. While you may know where to start when learning jazz chords, after you know a handful of chords, it's often tough to know where to go next. This is where adapting chords you already know comes into play.
Rather than bog yourself down by learning all new chord shapes, you can adapt shapes you already know to create new sounds in your playing.
One of the most popular ways to do this is to remove the root note from any four-note chord you know. This gives you a three-note triad that outlines the chord and is easier to play than the four-note version. And, since the bass is covering the root note, you don't lose anything by leaving out the root.
In this lesson, you learn how to remove the root from common chords to create triads in your playing. Then, you apply that knowledge to a jazz standard, Autumn Leaves, as you take these triads to a musical situation.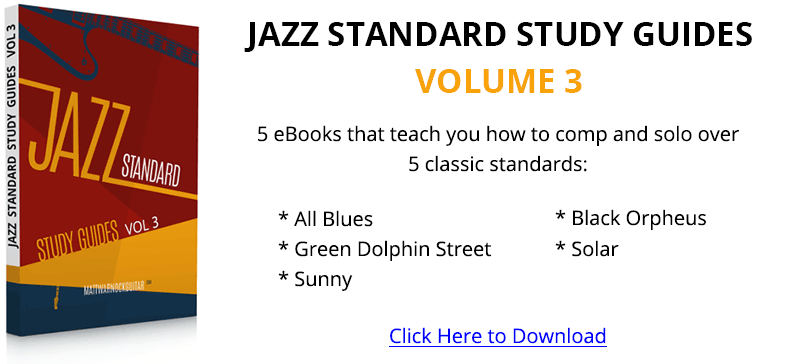 Rootless Chords – Triad Shapes
Before you dive into the chord study below, take a minute to learn about how you can remove the root note from common chord shapes to create rootless chords.
The only trouble with rootless chords is that there's no root.
This means that you need to visualize the root but not play it.
Because of this, building rootless chords by removing the root from shapes you already know helps you visualize the root note even if you don't play it.
Here are the formulas to determine which triad you use to create rootless versions of common jazz chords.
Maj7 = minor triad from 3rd
7th = diminished triad from 3rd
m7 = major triad from b3rd
m7b5 = minor triad from b3rd
7b9 = diminished triad from b7
Now that you know what triads are used to build rootless chords, here they are on the guitar to check out. These chords are taken from Autumn Leaves, starting with the first four bars, a ii V I IV progression in G major.
The first bar of each chord is a common chord shape, then the second bar has the root note removed.
The triad is written below each rootless chord so you can see which triads are produced when you remove the root from each of these chords.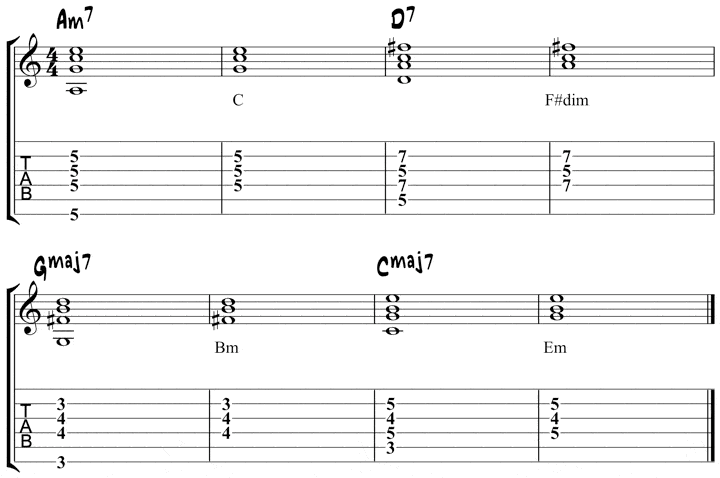 Here are the chords and rootless chords for the next four bars of Autumn Leaves, a ii V I in E minor.
Again, a common chord voicing is in the first bar, followed by the rootless chord and the name of that triad in the second bar.
Play through both of these examples to get a feel for how rootless chords sit and sound on the guitar. Then, when you're ready, move on to the Autumn Leaves rootless chord study below.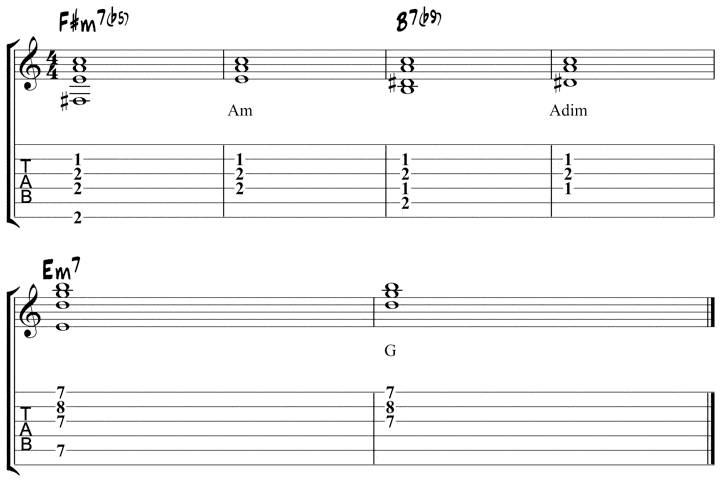 Autumn Leaves Rootless Chord Study
Now that you know how to build these rootless chords, and have played a few triad shapes, you're ready to take them to a jazz standard.
Here, two or more triad shapes for each chord are used. Start by learning one shape in each bar and comping with those shapes over the backing track. Then, learn the rest of the shapes and comp with those grips over the backing track.
As you can see, the triads are written in a plain rhythm. Start by playing whole and half notes, keeping the rhythms simple as you work on these new chord shapes.
Then, once the shapes are comfortable, change the rhythms, break the chords up a bit, add in slides into and between chords, etc. Start with a simple, yet strong, foundation and build out from there.
If you want to take this exercise further, you can work in other triad shapes and string sets for each chord in the tune.
As well, you can treat each triad as an arpeggio and play them as single notes, adding these shapes to your soloing ideas in the process.
Triads are easy to play, sound good and give you everything you need to outline chords and progressions.
Backing Track
Listen and Play Along