---
---
One of the best ways to navigate through tunes, at least for me, is having a set of cool sounding jazz guitar licks to fall back on. This article contains five essential jazz guitar licks applied to common jazz chord progressions that will expand your jazz guitar vocabulary.
Common jazz rhythmic devices such as syncopation, swung eighth notes, triplets, and motifs are used in each lick to create musical variety, and all of the audio examples are recorded at medium to slow tempos for study purposes.
While working slow at first is essential, many jazz and Bebop tunes are played at fast tempos, so begin to increase the speed of each lick when you can play it cleanly at a slow tempo.
10 Jazz Guitar Licks Practice Tips
Before you dive into these classic jazz guitar licks, here are 10 exercises that you can use to internalize each lick, get it into 12 keys, and add it to your next jazz guitar solo in an accurate and musical fashion.
Practice each lick slowly with a metronome.
Play each lick in all 12 keys.
Learn each lick in at least two different positions on the neck.
Apply each lick and idea into a musical situation such as a jam or a gig as soon as possible.
Use backing tracks so that your ears learn how these jazz-guitar licks sound in a musical context.
Construct your own licks using the same techniques.
Apply rhythmic displacement to each lick.
Practice using each line against different chord types.
Improvise and create your own lines using fragments from each lick
Sing each lick while playing the chords on guitar.
Jazz Guitar Licks 1 – Maj7th
The first essential jazz guitar lick is a maj7th phrase the style of Charlie Parker.
The phrase uses chromatic approach notes on the off beats of the bar. The lick starts by approaching the major 7th interval from a half step below.
The next chromatic approach tone is on the & of 4 in the first bar (a b6 interval), which resolves to the perfect 5th in the next bar.
Long flowing eighth notes with occasional triplets phrases, like this example, are found in countless bebop solos.

Jazz Guitar Licks 2 – m7
The next jazz guitar lick is a classic Dizzy Gillespie minor phrase that uses syncopation and the minor bebop scale.
Like the first phrase, this lick starts with a chromatic passing note on the & of the beat.
The chromatic approach tone leads into a minor triad based phrase.
Starting a line with an eighth note on the offbeat, followed by a triad or arpeggio played in triplets is a common rhythmic device in bebop.
Jazz Guitar Licks 3 – Major ii V I
The next phrase is a short major ii V I Charlie Parker influenced lick.
This line features the note of the resolution in the first ii-V part, which can be found in an abundance of bebop licks.
Starting on the tonic of the iim7 chord, the line resolves to the 3rd of the V7 chord half way through the bar.
Chromatic approach tones are used over the Imaj7 chord to complete the phrase.
The quarter note – triplet rhythm used in the first bar is frequently used in the jazz language and works well with almost any descending scale or arpeggio.

Jazz Guitar Licks 4 – Minor ii V I
No essential jazz guitar licks article would be complete without including a line that uses the dominant 7b9 sound.
The b9 lends itself particularly well to the V7 chord in a minor ii-V, and a dominant 7b9 is a great way to define the chord while capturing this classic sound.
A 3 to b9 arpeggio is used over the dominant 7th chord in the second bar.

Jazz Guitar Licks 5 – I VI II V
One of the most common jazz chord progressions is Rhythm Changes.
This final jazz guitar lick demonstrates how ascending four-note patterns can be used to navigate through the I VI II VI harmony.
The harmonic formula for the first two bars of this line is a 12345 lick followed by a diminished pattern.

Learning Jazz Guitar Licks From Tunes
Many classic rhythm changes themes started off as licks. Listen to different bebop heads, especially those written by Charlie Parker, and learn a few phrases from each theme.
Jazz musicians frequently quote other themes in their solos.
I hope that you have enjoyed analysing, playing, and studying each of these jazz guitar licks and that they bring inspiration to your jazz guitar practice schedule.
What are some of your favorite ways to practice jazz guitar licks? Share your thoughts in the comment section below.
Learn 50 Essential Jazz Guitar Licks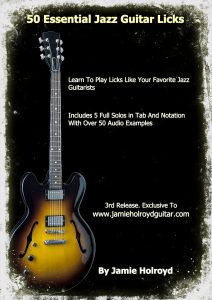 Do you want to expand your jazz guitar vocabulary with more great licks such as the 5 in this lesson?
Click here to check out Jamie's new eBook, "50 Essential Jazz Guitar Licks"
The book comes with audio, tab, notation and text explanations for all 50 licks, plus practice exercises to help you get these important jazz phrases under your fingers, into your ears and into your playing today.