The Brazilian acoustic guitar player Baden Powell is one of the key figures in the Brazilian Jazz movement.
He was born in 1937 and named after the founder of the boy scouts, Robert Thompson Baden Powell of whom his father (a violin player) was a big admirer.
He started playing guitar at the age of 8 and proved to be a prodigy on the guitar.
He performed in the program Papel Carbono and won the first place as guitar soloist.
At the age of 13 he was playing as a professional musician and got inspired by jazz music.
In 1956 he got his first big success: Samba Triste. Another well known composition of him is 'Berimbai'.
Baden Powell had complete command over his instrument and coupled this with unique musicality. He died in 2000 at the age of 63.
Related guitar lesson: Introduction to Latin Guitar
Recommended listening : 'O Universo Musical De Baden Powell'
Baden Powell Licks 1
To begin your study of Baden's soloing concepts, here is a typical arpeggio-based line in the key of E major.
Notice the slides in the last section of the lick, as these are characteristic of Baden's playing, and of Brazilian guitar in general.
Listen & Play

Baden Powell Licks 2
This Baden Powell chord phrase uses up-beat attacks along with three and four-note voicings to outline a ii V I in F major.
If you are new to chord soloing, try plucking each chord with your fingers, or you can use a hybrid (pick-fingers) picking approach in order to get that Brazilian feel in the tone of the phrase.
Listen & Play

Baden Powell Licks 3
Featuring a series of triplets, along with pull-offs, this is a characteristic single-note line that is found in Baden's soloing phrases.
Watch that you don't rush during the triplet section, which is a common roadblock with repeated rhythms, and as always use a metronome to get the rhythms accurate and even in your studies.
Listen & Play

Baden Powell Licks 4
Here, you will learn a highly syncopated line that uses three-note chord fingerings over a common chord progression.
Go slow with this phrase and use a metronome in order to get each up-beat chord accurately placed within the measure, trying not to rush which is a common issue players experience with this type of phrase.
Listen & Play

Baden Powell Licks 5
The final lick is a short ii-V-I-vi phrase that uses a typical Baden Powell approach to arpeggios.
Here, you will play an upper melody note at the start of each chord, followed by an ascending three-note arpeggio that outlines the underlying chord change in the phrase.
Coming from the classical realm, this type of arpeggio pattern can add a nice Bossa feel to your improvised lines and phrases in any setting.
Listen & Play

If you are interested in studying classic Brazilian JAzz and Samba guitar, then Baden Powell is a great place to start when digging into Brazilian vocabulary on the guitar.
By working on the licks in lesson, you will get into the harmonic, melodic and rhythmic fundamentals that made Baden such a legendary player, while learning how to play authentic Brazilian lines and phrases at the same time.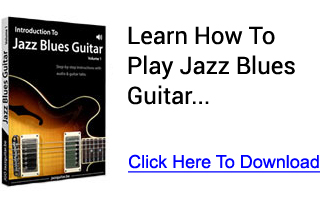 Back to Guitar Licks