Allan Holdsworth is a British fusion jazz guitar player and composer. He's one of the key figures of fusion jazz, but doesn't always get the recognition he deserves.
Allan Holdsworth taught himself how to play guitar, he's got a very advanced knowledge of chords and scales, but he can't read note script.
Allan has a very unique sound and musical interpretation. His horn-like tone and phrasing is a result of:
On the first place, his hands. In an interview he says that you make the sound with your hands and you can fine-tune it with your gear.
His guitar rig: the guitars, amps and effects he uses (see further).
His legato playing style, he avoids picking notes (the contrary of players like Al Di Meola).
The use of the tremolo bar.
A legato style of playing requires a lot of sustain. The traditional way of getting sustain is using distortion, but Allan Holdsworth never liked using distortion to get sustain. That's when his search for the right gear started.
Here's a breakdown of Allan Holdsworth's guitar equipment:
Guitars
Allan Holdsworth is a big fan of headless guitars. In his own words:
If you get used to playing a headless guitar, it's really hard to go back to a headstock. I can't really describe it, it just feels awkward.
Steinberger Guitars
Ned Steinberger, a friend of Allan Holdsworth, is a luthier who's known for his minimalist headless guitars and basses. His most famous guitar model is the L-series guitar, made of a graphite and carbon fibre mix. The tuners are located at the tailpiece, the strings have a ball at both ends.
Another famous invention of Ned Steinberger is the Trans-Trem, a device that enables to transpose the tuning of the guitar.
Ned's company, Steinberger Sound, was bought by Gibson in 1986.
There's a Allan Holdsworth signature model, the GL2TA-AH with passive Seymour Duncan SH-AH1 Humbucker pickups.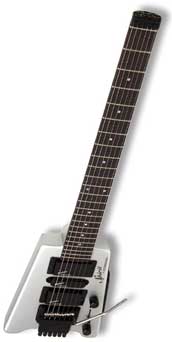 Bill DeLap Guitars
Bill DeLap is a Monterey based luthier. He has built several guitars for Allan, including a Steinberger model and some baritone guitars. Allan used the Steinberger Bill Delap until he hooked up with Carvin. He now switches back and forth between the two.

Carvin Guitars
Because Bill DeLap guitars took too long to make, Allan Holdsworth approached Carvin about making him a guitar.
The result is the Carvin HF2 and HF2 Fatboy. These are the guitars he uses in the studio most of the time, live he plays the DeLap guitars.
The HF2 is semi-hollow, the fatboy completelyhollow.

Synthaxe
The Synthaxe was made by Bill Aitken in the 80s and is a fretted, guitar-like MIDI controller with or without a breath controller.
Nowadays there are about 1000 pieces of this instrument in existence and Allan Holdsworth owns 2 of them.
Other guitar players who used a Synthaxe: Lee Ritenour, Gary Moore, Al Di Meola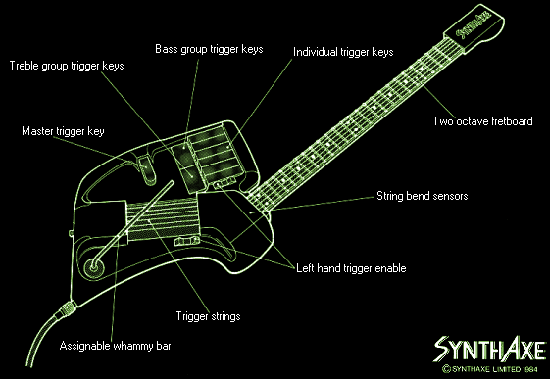 Other Guitars
Allan's first guitar was a Hofner President




Allan owned a Fender Stratocaster in the early years, one he got from a friend. He used it for about 6 months. Later in his career he experimented with Strats again (with Humbucker pickups).
Then he started playing on a Gibson SG. He owned 3 of them and used them for about a decade. He played on an SG in Tony Williams's Lifetime band.
In 1972 Allan Holdsworth recorded with a Gibson ES-335.
He played Charvel guitars for a while.
Allan experimented with a Chapman Stick (one without bass strings).
Guitar Amps
Hartley Thompson Amps
Allan loved these transistor amps (made in the UK) because of their warm and clean sound.
In his own words: "Transistor amps are clean up to a certain point, and after that they go into a horrendous type of distortion. The Hartley-Thompson doesn't do that..."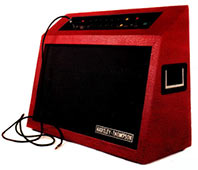 Yamaha DG80 112 Digital Modeling Amp
Allan Holdsworth has 2 of these 80-Watt digital modeling amps with Celestion Vintage 30s.
One he uses for his clean sound. He takes a crunch preset with very little gain and a lot of master volume.
The other amp he uses for his lead tone. It's the Lead One preset with various degrees of gain.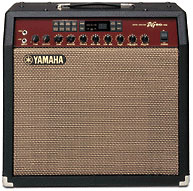 Hughes And Kettner
Allan Holdsworth is endorsee for Hughes and Kettner. He uses the TriAmp MKII and the ZenTera.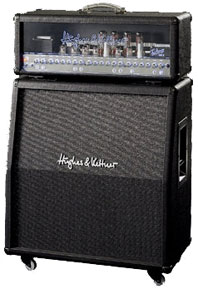 Other Guitar Amps
In his early years Allan Holdsworth used a Vox AC30.
He also played a 50-watt Marshall with 2 4x12 speaker cabinets. He liked the Marshalls for single-note soloing, but not for chords because they distorted the chords.
2 (Norlin) Lab Series L5, which he found too clean.
Johnson amps
Mesa Boogie
A Carvin keyboard amp
Guitar Effects
Yamaha UD Stomp
Allan Holdsworth approached Yamaha with the idea of putting a rack full of delays into a box. The result is the Yamaha UD Stomp. This guitar effects stompbox has eight separate delays.
Much of the UD's technology is later used in the Yamaha Magicstomp.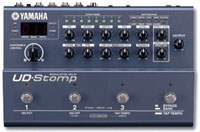 Yamaha Magicstomp
Live, Allan Holdsworth uses 5 or 6 Yamaha Magicstomps, 1 clean, 1 clean chorus/delay, one for distortion and the others for effects such as pitch shifting.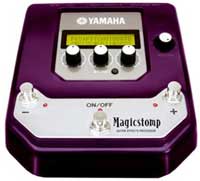 Other Guitar Effects
Guitar Strings
The guitar made by Bill DeLap is stringed with a LaBella .008 set, the Carvin Fatboy with a LaBella .009 set.
Guitar Picks
Allan Holdsworth uses 1 mm Dunlop guitar picks.
Recording
For recording guitar Allan Holdsworth uses Neumann U87 microphones placed between the center and the edge of the cone.

Back to Guitar Gear