Jazz Guitar Licks : Pat Metheny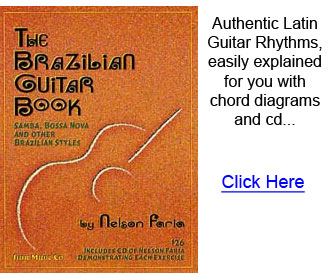 Pat Metheny's versatility is almost beyond compare to other musicians. It seems like he masters every style and he succeeds in blending those styles in a natural and elegant way.
His musical diversity shows if you have a look at some of the people he played with : from Steve Reich to Ornette Coleman to Jim Hall to David Bowie to Noa to Herbie Hancock to ...
Pat Metheny also manages to combine virtuosity with accessibility, resulting in music that is pleasing for 2 kinds of audiences, hence his popularity.
Recommended listening: 'Question and Answer'
Minor Licks
1) This is a typical Pat Metheny lick. Use it over Emin or Dmaj and make sure you get the picking right : down stroke for the beats and upstroke for the off beats

---
2) Hammer on galore.

---
Major Licks
3) This lick starts with some chromatic approaches and ends with a C major scale in thirds.

---
4) I like this one a lot. It's also in the C major scale.

---
Riffs
5) This is a montuno-like guitar lick that Pat Metheny plays on 'Phase Dance' from the album called 'Pat Metheny Group'. There's also a live version of 'Phase Dance' on the CD 'Travels'.
A montuno is a repeated syncopated vamp usually played by the piano in salsa music.

The Bm7 and Bbmaj7 can also be seen as D/B and Dmin/Bb. This is also what I think when I improvise over 'Phase Dance' : D major over the Bm7 and D miner over the Bbmaj7.

In the coda of 'Phase Dance' the montuno goes through a series of very interesting and beautiful modulations.
Check it out!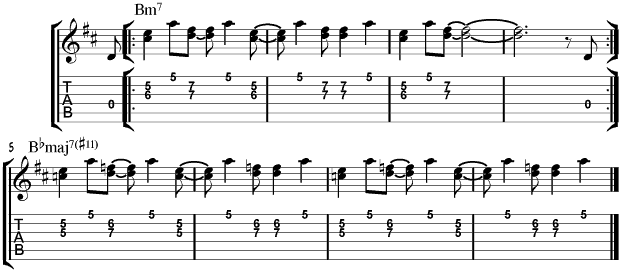 ---
Various Licks
6) Metheny plays this famous guitar lick on the solo break of 'Third Wind' (roundabout 1.35), a Metheny composition from the album Still Life (Talking). There are a lot of transcriptions of this lick circulating on the internet, but I've never found a correct one.
The lick uses a lot of chromatic notes and pentatonic scales. It's a good Pat Metheny technique exercise.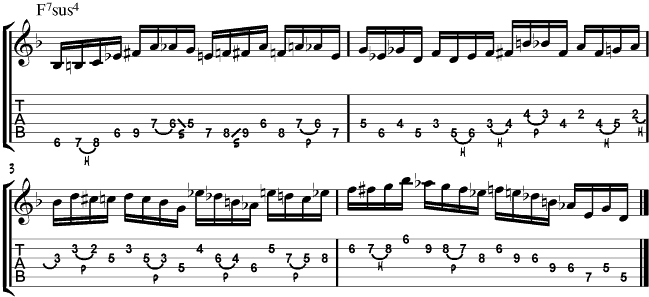 ---
7) The following lick comes from the start of Bright Size Life and is a great pick up line to start a solo. The lick is in the D major scale, starts on the third and follows the following pattern: up a fifth, down a second.
You can listen to the lick on this mp3 (not at the start, but after about 8 seconds):