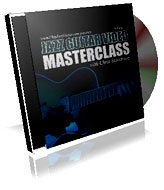 This lesson is an excerpt from Chris Standring's guitar learning tool called
Jazz Guitar Masterclass Volume 1
.
Effective video lessons in HD
Note for note transcriptions in notation + tab
Printable music
Play along tracks
What you will learn in this lesson: By learning how to take small, easy to play and great sounding melodic licks and connecting them to make longer lines, you won't have to worry about memorizing long, complicated licks to build great-sounding jazz guitar solos.
When learning how to play jazz guitar, it is essential to spend time studying, analyzing and learning licks from great players such as Wes Montgomery, Joe Pass and Charlie Christian.
While learning classic licks, getting them under your fingers and working them in 12 keys is important, many players hit a roadblock when it comes to actually making them sound good during improvised solos.
In this lesson, featuring videos from Chris Standring (author of the immensely successful guitar course Play What You Hear), you will learn how to take small, manageable licks and connect them in a musical way to build longer lines in your jazz guitar solos.
By breaking down longer lines into short, easy to play licks, you will not only add some great sounding Bebop lines to your vocabulary, but you will give yourself the building blocks needed to create hip-sounding lines on your own.
Mini Licks
To begin, here is a "master list" of all of the mini-licks used in the longer lines below.
It would be good to start this lesson by playing through each of these smaller ideas, learning how they sit on the fingerboard and how they sound as individual ideas. This will help you learn to recognize these small yet important licks later on when you begin to explore the longer Bebop lines below.
Feel free to refer back to this master list as you work through the longer Bebop lines in order to refresh your memory with these short licks, as well as use these short ideas to create your own Bebop lines later on in the practice room.
Em7 Bebop Lick 1
In this first example, which is played at both slow and fast speeds in the video, you can see how Chris takes 5 short licks and connects them to form a longer, three-bar Bebop line over an Em7 chord.
Work this line slowly at first, paying attention to the lick as a whole, but also the short licks that are connected in order to build the longer phrase. It's just as important to see the small licks as they come together as it is to get the longer line under your fingers.
Em7 Bebop Lick 2
This second example, which you can see at both slow and fast tempos in the video below, uses some of the same licks as the previous line, but now adds some new ideas to the mix over the course of these 3 bars.
If you can get the long line under your fingers, as well as understand and hear how it was built by connecting the smaller ideas, then you not only get a cool sounding lick to use in your solos, but you are well on your way to building lines such as this on your own.

Em7 Bebop Lick 3
In this third and final example, you can see how four licks from the first and second lick are connected in new ways to derive a unique sounding phrase.
Check out the video for a demonstration of this lick in both slow and fast speeds, then take this lick to different keys and tempos around the neck.
Further Practice
Once you've learned the three example licks from the videos in this lesson, and worked them in all 12 keys at different tempos, try and build your own longer lines by combing the short licks in new and different ways.
Try this approach out in the practice room this week and see how this lick connecting approach can help get your jazz guitar solos to the next level.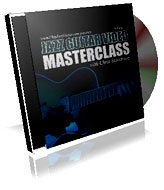 This lesson is an excerpt from Chris Standring's brand new guitar learning tool called Jazz Guitar Masterclass Volume 1.
Effective video lessons in HD
Note for note transcriptions in notation + tab
Printable music
Play along tracks

Back to Guitar Licks