In today's jazz guitar soloing lesson, we'll be checking out a fun to play and cool sounding Jazz Blues study that uses a common jazz technique called "3 to 9 Arpeggios."
If these arpeggios are new to you, take a moment and check out the background section below to get a quick refresher on this important jazz technique so that you can not only learn the arpeggio study written out below, but you can take 3 to 9 arpeggios and apply them to other areas of your playing as well.
3 to 9 Arpeggio Quick Guide
3 to 9 arpeggios are 4-note arpeggio shapes that don't contain the root, they use the 3rd, 5th, 7th and 9th instead, hence the name, 3 to 9.
While they sound great and are easy to play once you get the hang of them, they can be tricky to learn at first as you aren't playing the root of the chord that you're on, which may be a totally new concept to you at this point depending on where you are in your development.
If this technique is new, take your time with it and go slow, it'll be worth the time spent on it once you get it down and are putting these ideas into your solos in jams and on gigs.
The cool thing about 3 to 9 arpeggios is that if you know your basic 1357 shapes already, then you don't have to learn anything new, you just take material you already know and think about it from a different perspective, and voila, you've got 3 to 9 arpeggios.
As an example, if you look at all the chords in the jazz blues study below, you can see that the 3 to 9 arpeggios are all common shapes that you might have learned already in your development as a jazz guitarist.
F7 = A C Eb G (Am7b5)
Bb7 = D F Ab C (Dm7b5)
D7b9 = F# A C Eb (F#dim7)
Gm7 = Bb D F A (Bbmaj7)
C7 = E G Bb D (Em7b5)
So you can see that all you have to do in order to play 3 to 9 arpeggios is find the 3rd of the chord you're on, then play a common arpeggio shape that you might already know and you have yourself a 3 to 9 arp.
Here is a guide to playing 3 to 9 arpeggios for some of the most common jazz chords:
Maj7 = m7 from 3rd
7th = m7b5 from 3rd
m7 = Maj7 from 3rd
m7b5 = m7 from 3rd
After you've learned the arpeggio study below, try and take the 3 to 9 concept to other tunes you are working on, using the above chart as a guide.
As well, you can begin by learning the written out study in this lesson, and the fingerings given as examples, but feel free to use other arpeggio fingerings, move these shapes to different octaves and areas of the neck, and change the rhythm to raise the level of engagement and productivity when working on this study in the woodshed.
Jazz Guitar Soloing Study F Blues 3 to 9 Arps
Click to download a printable PDF of this Jazz Guitar Soloing Study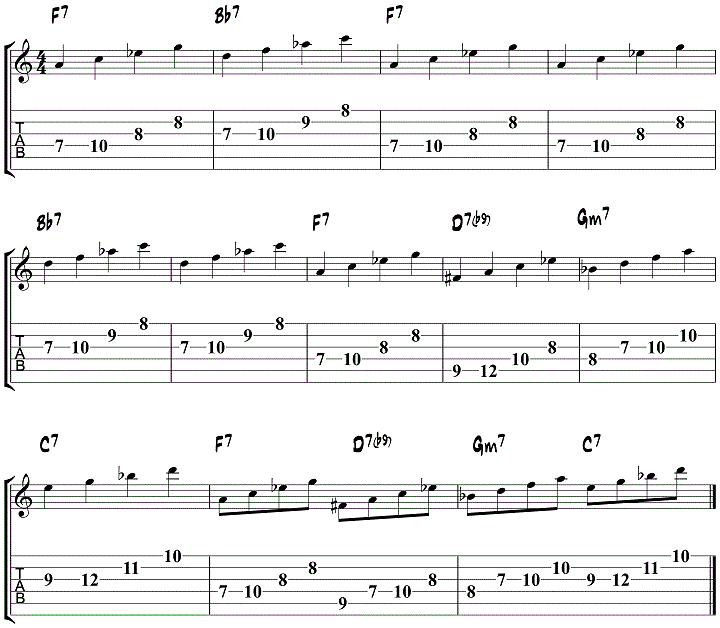 Practice Tips For This Study
Start at a slow tempo and practice with a metronome as you increase the speed over time
Sing the root for each chord as you play through the progression
Memorize the study as soon as you can, taking the music off the page and into your ears
Practice running these arpeggios from the bottom up, as written, and from the top down, from the 9th to the 3rd to add variety to your woodshedding
Improvise over an F blues chord progression and use only the 3 to 9 arpeggio to solo over each chord in the tune
Learning to play 3 to 9 arpeggios can really open up your jazz guitar soloing and take your playing to the next level. While it may seem hard to get these rootless arpeggios under your fingers at first, by working on studies such as this one, you'll be able to get these sounds in your ears and into your solos in no time.
Do you like to use 3 to 9 arpeggios in your jazz guitar soloing? Share your thoughts in the comments section below.