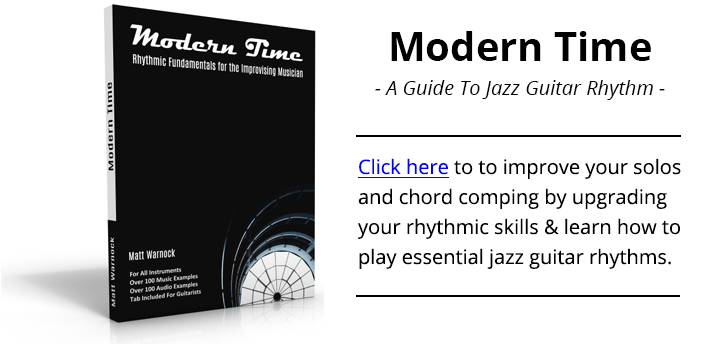 Guitarists have a love-hate relationship with scales and guitar scale exercises. You know they're important, but they're often not that fun to work on. One of the main reasons that guitarists struggle with learning and being creative with scales in their solos is a lack of rhythmic focus with these devices.
If you work on scales with one rhythm, such as non-stop eighth notes, then when you solo, chance are you'll run non-stop eighth notes. By adding rhythmic variation to your scale exercises you'll expand your rhythmic palette, as well as bring a new sense of interest and creativity to your solos.
In this lesson, you'll explore ways that you can apply essential jazz rhythms to your guitar scale practice routine, from both a technical and soloing standpoint.
Guitar Scale Exercises – Common Jazz Rhythms
Before you dive into these scale rhythm exercises, let's take a look at a few common jazz rhythms, and how you can find other rhythms to work with. If you're new to jazz, or don't know where to start with rhythmic study, here are four common jazz rhythms that you can use with any exercise below.
You'll be studying the first rhythm through the written examples in this lesson, so begin with that one in your workout. From there, once the below exercises are comfortable, move on to the other three rhythms.
Listen & Play

After you've worked on the given rhythms, or if you just want to change things up a bit, you can move on to using other rhythms in your practice routine.
The best place to go to find rhythms is recordings, transcribing rhythms as you'd transcribe notes. Listen to your favorite player, find a solo you enjoy, and transcribe a short rhythm that catches your ear from that solo. Then, take that rhythm through the exercises below.
When that's comfortable, you can repeat this approach, giving you an endless supply of great-sounding rhythms to draw upon and add to your practice routine.
Jazz Rhythms Guitar Scale Exercises
Once you've picked out a rhythm to work on, such as any from the above examples, you're ready to take them to your scale practice.
In these examples, you'll use the first rhythm from the previous section, a dotted quarter note and eighth note, to run through your scales. You'll start with the C major scale in these examples.
To begin, you can take your chosen rhythm and play it through any scale along with a metronome. Start slow, and increase the tempo over time until you can't play the exercise.
Once you've got any of these examples under your fingers, you can expand your practicing to include other rhythms, other keys, and other scales.
Here's an example of this exercise with the C major scale and first rhythm from the previous section.
Listen & Play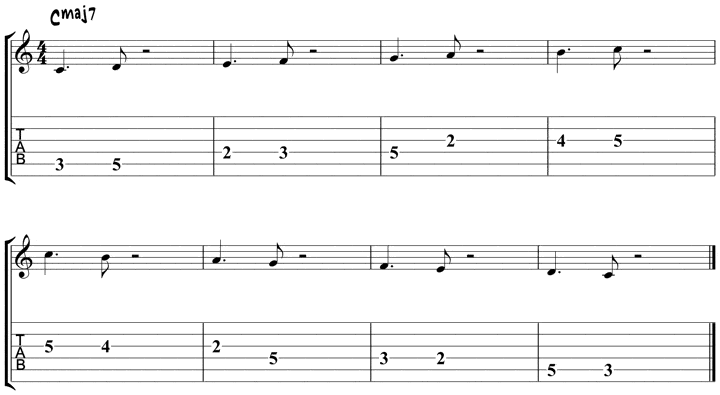 The second exercise will double the amount of notes you play in each bar, as you play the rhythm twice in each measure of the scale.
Because this sample rhythm is half a bar long, you can play it twice in each measure, as you see in the example below. This won't always work within one bar, as if you have a one-bar long rhythm, doubling it up will only repeat it each bar.
When playing this exercise, you'll not to keep focus on the metronome and playing the rhythm in line with the click. Playing a steady rhythm such as this one often causes you to rush as you don't have any moments of rest in your playing. Go slow, use a metronome, and concentrate on lining up directly with the click.
Listen & Play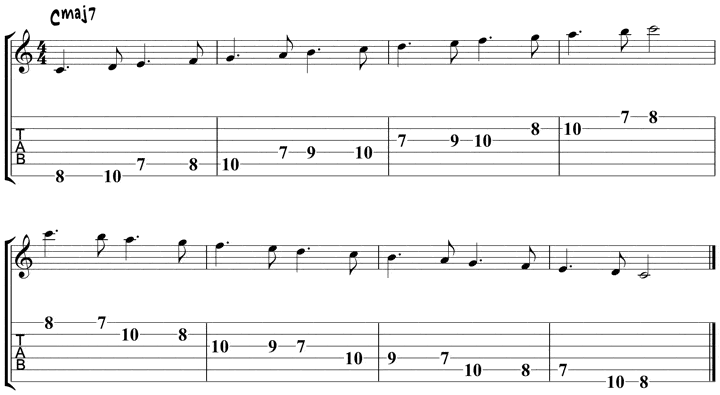 As well as working rhythms through a scale by playing those rhythms on their own, you can also apply rhythms using accents in your scale routine.
You can see this approach in the following exercise, which uses the previous rhythm but this time as an accent over a steady series of eighth notes.
As you play through the scale in eighth notes, you'll accent the first and fourth notes of each bar, imitating the rhythmic motive that you used in the previous exercises. To accent the notes, play them slightly louder than the other notes in the bar.
You can also think about playing the other notes quieter than the accented notes, as this can help prevent you from "snapping" the strings as you dig into the accents. Lastly, you'll want to keep all of the non-accented notes even in volume, which can be tough to do.
Listen & Play


Jazz Rhythms Soloing Exercise
As well as working on rhythms through scale shapes, you can use these same rhythms to develop your soloing skills.
In the following exercise, you'll pick a single rhythm, and improvise with that rhythm over a tune. In this example, you'll be using the first rhythm from the above examples, and using it to solo over a blues in F chord progression.
The key to this exercise is to stick to the one rhythm for as long as you can, no variations. This'll help you develop your rhythmic control, as well as get you focused on rhythmic motives in your solos.
After you've learned the sample solo below, solo over the backing track and use the same given rhythm, but you make up the notes.
From there, you can pick another rhythm and repeat this exercise over an F blues, before taking it to other tunes.
Backing Track


Listen & Play