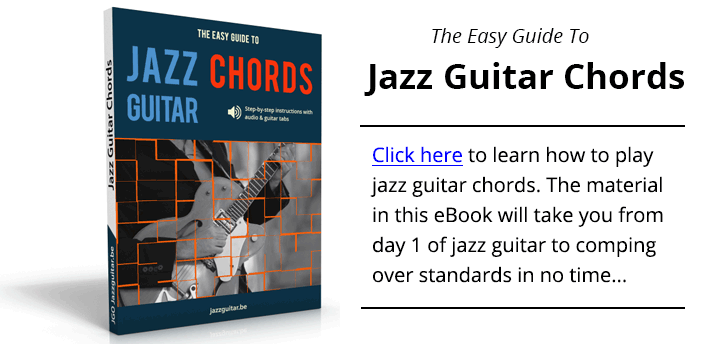 Drop 2 chords are the most popular chord voicings used in jazz guitar. They can be used for a wide variety of purposes, including comping, soloing, chord melody, etc.
On the following chord chart you will find major, dominant, minor, half diminished and diminished drop 2 chords and their inversions.

These big chord charts are hard to print, that's why I'm compiling them in an ebook for easy printing. I'll let you know when the ebook is finished
Drop 2 ii V I Exercise
Here's a good exercise that will help you memorize the drop 2 voicings. Play the drop 2 chords over a ii V I in C major. Start with the Dm7 voicing in root position on the 12th fret and descend down the neck, while making as little change possible between chord changes.
The exercise sounds a bit mechanical played like this, but is efffective for learning the positions of drop 2 chords on the fretboard.
Here's the backing track:
Harmonizing Melodies
Drop 2 chords are often used for harmonizing melodies and chord solos. In the example below, the G major scale (the top note of the chords) is harmonized.
2 things you need to keep in mind when harmonizing melodies:
Chord tones (in this case G B D F#) are harmonized with major drop 2 voicings (inversions).
Non-chord tones (in this case A C E) are harmonized with diminished drop 2 voicings.

Variation In Chord Comping
You can use these drop 2 scales to harmonize melodies, do chord solos, but also bring variation in your chord accompaniment. Here's an example on a ii V I in G major. All chords used are drop 2 chords, except the Gmaj7 in the 3th bar, that's a 4-way close voicing.
To make the D7 chord in the 2nd bar a little more interesting, I made some modifications to the plain drop 2 chords.
Instead of just playing the normal D7/C drop 2 inversion, I exchanged D7's 5th on the second string with the 13th: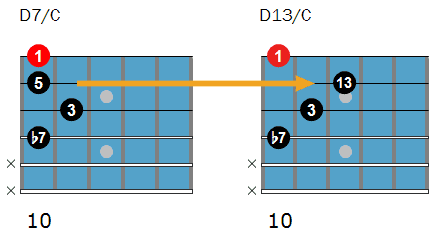 In the next voicing I exchanged D7's root note with the 9th: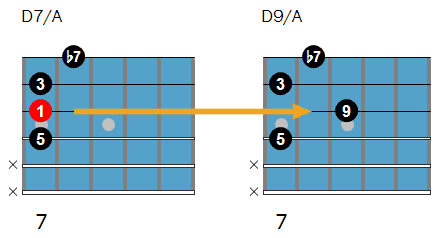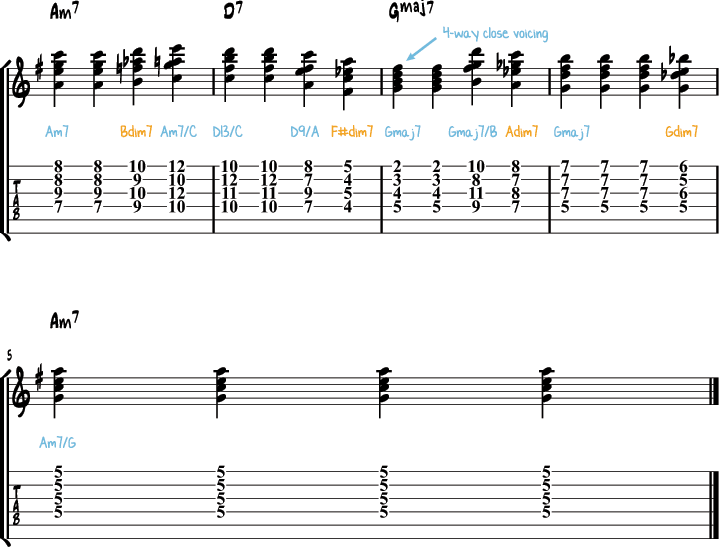 More chord charts: