Bireli Lagrene was born in 1966 in a family of gypsy musicians. He started learning guitar at the age of four by copying Django Reinhardt's solos note by note. In the early 80s he emerged as the child prodigy who sounded exactly like Django Reinhardt. He recorded his first album, 'Routes to Django', in 1980 at the age of 14.
A few gypsy jazz records later he wanted to take some distance from his Django sound and started playing jazz-rock fusion. In 1986 he recorded an album with bass player Jaco Pastorius, called' Stuttgart Aria' (see lick below).
More recently Bireli Lagrene decided to pick up his roots and released a gypsy guitar concert DVD, with other big gypsy guitarists like Stochelo Rosenberg, Angelo DeBarre, John Jorgenson and Gary Potter: Bireli Lagrene & Friends Gypsy Project.
Recommended listening: Gypsy Project
1) I picked this guitar lick from the album Stuttgart Aria, which Bireli Lagrene recorded with Jaco Pastorius. The tune is called 'Chicken', composed by Pee Wee Ellis (it's a fun song to play, you should check it out if you never heard it).
The song is in Bb. The lick transcribed here starts on IV (the 5th bar of a chorus). The lick opens with a phrase in the Bb minor pentatonic blues scale. Bireli plays an A dim arpeggio over the D7: 5, b7, b9 and 3 for D7. The lick concludes with a bluesy chromatic phrase.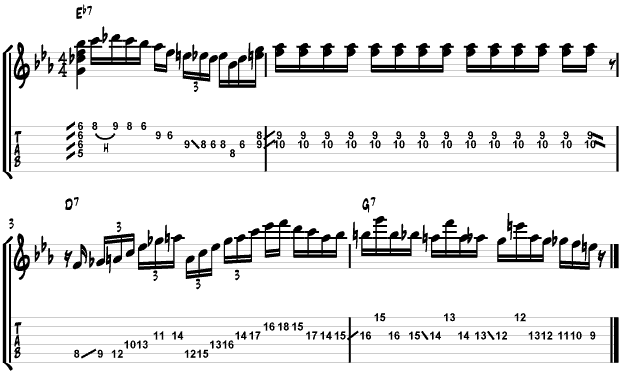 Back to Guitar Licks