Barney Kessel is particularly known as a bebop guitar player and for his jazz trios. Born in 1923 he started his career by playing in big bands, like the one of Artie Shaw.
In 1952 he toured with the Oscar Peterson Trio for one year. During the 1960s he became one of the busiest studio musicians in LA. As a session guitarist he played on many famous pop albums and singles from bands like The Monkees and The Beach Boys.
Kessel's most famous album is The Poll Winners, a trio album with bass player Ray Brown and drummer Shelly Manne. Another famous trio of him is Great Guitars, an all guitar band with Herb Ellis and Charlie Byrd.
In 1992 Barney Kessel suffered a major stroke, which put him out of action. He died of brain cancer in 2004.
Recommended listening : Kessel Plays Standards
Barney Kessel Lick 1
This Kessel lick uses an interesting harmonic choice that Barney liked to bring to his lines, and that is the B triad over Gm7 in the second bar of the line. Here, Barney is outlining the notes B-D#(Eb)-F# over Gm7, but then resolving it to the more "inside" note F at the start of the next bar. By playing Bb-A-G-F#, then a short diversion, before resolving to the downbeat of the next bar, Barney is delaying the resolutions of that F# by two beats, allowing him to extend his line in the process.
Listen & Play

Barney Kessel Lick 2
Barney was a fan of big, 5-note chords, and here is an example of Barney-style chord shapes being applied to a ii-V-I-VI chord progression in the key of C major. Notice how the G stays on top of each chord, as this was also something Barney liked to do, and something that can help bring a cohesiveness and thread to your chord changes as you bring this idea to your own comping and chord soloing.
Listen & Play

Barney Kessel Lick 3
Here is a bluesy lick that borrows from the C minor blues scale over the G7 chord in the second bar of this ii-V-I lick. Mixing the b3 and #4 (the blue notes) into the underlying scale is a quick way to bring a blues sound to any of your lines, and something that you can find in Barney's classic recordings and live shows.
Listen & Play

Barney Kessel Lick 4
Barney was a fan of the Honeysuckle Rose lick that you can hear in the first 6 beats of the lick below. This lick, based on the opening line to the jazz standard "Honeysuckle Rose," runs down from the root of the V7 chord, C-B-Bb in this key, before playing the iim triad from that chord up to the resolving note A. So, rather than playing R-7-b7-6, Barney plays R-7-b7-2-4-6, causing a diversion of sorts from a straight chromatic run during this line.
Listen & Play

Barney Kessel Lick 5
This Kessel-inspired lick uses a descending scale pattern, which features and ascending interval as it moves down the underlying scale fingering. This type of pattern is characteristic of not only Barney's soloing, but of other players from the late Swing and Bebop era. Check it out, great sound and easy to finger on the guitar.
Listen & Play

Barney Kessel is a tough player to immitate, but by working on these licks in the woodshed you'll get tha cool-sounding vibe that Barney was known for into your lines and improvised phrases.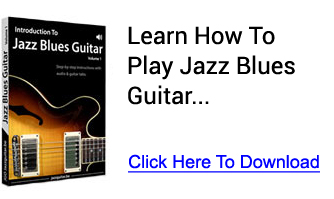 Back to Guitar Licks